Painting in Arlington, TX
Searching for a Painter in Arlington, Texas?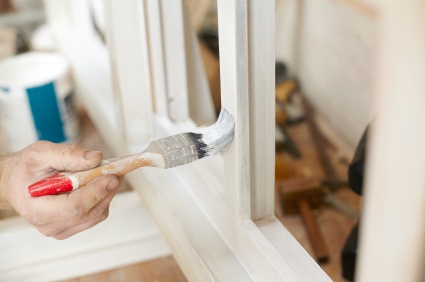 Since 1999, TC's Blinds & Tile Services has been providing painting service in Arlington, Texas. They have assisted many Arlington homeowners with their painting and renovation projects, by addressing their interior and exterior painting needs. TC's Blinds & Tile Services offers valuable Arlington services including drywall repair, woodwork staining, interior and exterior painting, garage floor coating, epoxy flooring, and more.
TC's Blinds & Tile Services's Arlington painting service includes:
Touch-up on walls and ceilings
Drywall repair
Repair, replacement or installation of moldings and trim, including wainscoting, crown molding, door jams, baseboards, window trim, chair railing, fireplace mantel and more.
Interior and exterior painting
Floor staining
Latex or oil paint
TC's Blinds & Tile Services offers free estimates, and affordable rates for Arlington painting. They use quality paint, and experienced Arlington painters. With their attention to detail, they take all the necessary extra steps to guarantee that your Arlington painting project is performed correctly.
Call TC's Blinds & Tile Services at (817) 381-0061 to learn more about having painting done by an Arlington handyman.
WHAT CUSTOMERS ARE SAYING:
5★★★★★ - "This was our first time to use TC's and we are very satisfied. We needed grab bars in the small shower in the master bath. The man asked several questions. We had not anticipated some of them but are very pleased. He left the area very clean!"
Don Hays in Arlington, TX
2019-04-11
---
5★★★★★ - "Needed a shower update (from a 1999 build) and Tye did a fantastic job.
He did a great job keeping the bathroom as tidy as possible while doing the job."
Amy in Burleson, TX
2019-01-22
---
5★★★★★ - "Tye is the best! His talent for his craft and his creativity far exceeded our expectations. Also, he is super reliable and trustworthy. My husband and I will definitely use Tye again and highly recommend him to anyone looking for an experienced professional."
Jill in Fort Worth, TX
2018-09-18
---
5★★★★★ - "Tye is a consummate professional who took my unfinished kitchen and turned it into a showpiece! His superb skills, professionalism, and courtesy made it a joy to work with him. "
Faith R. in NRH,TX
2014-01-24
---
5★★★★★ - "We found Tye Callaway through a close friend at work who recently had her bathroom remodeled. Tye's attention to detail is unsurpassed and he listened to my wife's concerns and made great recommendations. We are thrilled with the quality of work we received and he treated our home as if it were his own. We will definitely use Tye for our next project and recommend him to anyone doing remodeling. Tye is very professional, courteous and honest and best of all a great value for the price."
Dennis S. in Southlake, TX
2013-04-15
---
5★★★★★ - "Hi Tye! I wanted to thank you for doing such a wonderful job on the tile in my shower. It looks perfect! If you ever need me to talk to anyone about your work I will certainly be happy to do that! Thank you again. Have a great day!"
Lisa C. in Grapevine, TX
2013-04-15
---
5★★★★★ - "This is commend TC's Blinds & Tile Services for a residential remodeling project that covered a master bath, another full bathroom and a third bathroom. Mr Callaway provided superior service and performed high quality work with minimal disruption to our home lifestyles. Additionally, he was punctual, cleaned up every day and courteous. We plan to engage him on additional projects. I highly recommend your consideration of TC's Blinds & Tile Services. Feel free to contact me through Mr. Callaway for additional information."
Steve D., Bathroom Remodeling in Coppell, TX
2012-10-05
---
5★★★★★ - "I think TC's services is both friendly and professional. They were quick on installing our shades and gave good advice. They immediately called after I submitted request and were ready to discuss the problem and schedule an appointment. They arrived on time the day of the appointment, completed the repairs on-site and checked other shades to see if adjustments were needed. I would definitely call TC's services first if I needed any additional assistance."
Anna, Window Blind Service in Euless, TX
2012-10-05
---
5★★★★★ - "Our house in Old East Dallas is almost 100 years old and Tye's tile work completely transformed a sunken conversation pit. Excellent craftsmanship, attention to detail, clean and rapid finish-out and honest. Highest recommendation possible and will use him on all future tile projects."
Chuck and Pat S., Home Improvement in Dallas, TX
2012-10-05
---
5★★★★★ - "We would like to thank you for the excellent job you did on the renovation of our bathroom in our new house, we appreciate the time you spent with us explaining the different options we had on what kind of tile and design we could have. We are planning another project for another bathroom and would like to have you do this one also, as time comes closer, we have given your cards to several friends who have inquired about the great job and hope this will help grow your business. Thank you again and look forward to working with you in the future."
Terry and Janis G., Bathroom Remodeling in Haltom City, TX
2012-10-05
---
5★★★★★ - "Tye did a great job on the solar screens he put up for us. He takes a lot of pride in his work. great job Tye!!!!"
Martha R., Solar Screen Installation in Grand Prairie, TX
2012-10-05
---
5★★★★★ - "I am so thankful for the services provided by TC's Blinds and Tile Services! Tye was patient, flexible, and willing to listen to my ideas and questions - which were many! He walked my husband and I through the process of renovating our entire bathroom. My husband and I were often times on the opposite side of the spectrum in which our next step should be, however, Tye was able to walk us through to a place where both us were satisfied. Tye is meticulous in his work. You know up front what will be his cost - and regardless of the time it takes, he sticks with his word. He is trustworthy and needs no babysitting. I am so appreciative of his work ethic, his attitude, his integrity, and his willingness to listen to the homeowner and their ideas. He is welcome in my home any time, and will be the go to person for any future renovations in my home. Also, he advertises himself as tile and blinds, but I truly believe there isn't anything he can't do! Feel free to call me if you have any questions regarding this recommendation. My recommendation is without reservation and I will be happy to share our experience."
Deb & Al C., Bathroom Remodeling in Watauga, TX
2012-10-05
---
5★★★★★ - "This past winter a pipe burst in the ceiling of our patio. The amount of water damage required the whole ceiling to be replaced. After nightmare situations with other contractors in the past, TC's is a breath of fresh air. Talented, knowledgeable, dependable and fair. I have never seen anyone care about perfection like TC's. It's nice to be able to turn your back and know that your job will get done. I would like to add that when the job was finished, my ceiling looked better than it did when the house was new.  YES, I will hire TC's Blinds & Tile Services again." Deanna S., Outside Ceiling Repair in Frisco, TX"
Anonymous in Frisco, TX
2012-10-05
---
Call for FREE Painting Quote
---
Painting available in the following Arlington, TX zip codes:
76001
76002
76003
76004
76005
76006
76007
76010
76011
76012
76013
76014
76015
76016
76017
76018
76019
76094
76096